Roof-Top Hammocks
Last year I posted about the TrailNest, which is a folding metal contraption that you put on top of your roof so you can set up a hammock or two up there. Instead of a roof-top tent, it's a roof-top hammock.
I recently got an email from Chris, the guy behind TrailNest, informing me that version 2 of the hammock stand is currently taking pre-orders. The original TrailNest was $349. Version 2 is $799. My first question to Chris was why version 2 is more than double the price of version 1, and here are the key points that justify the price increase:
The metal floor that you can stand on to get in and out of the hammock—which used to be an add-on accessory—is now included.
Shipping is now free.
The stand is now made from aluminum rather than steel, so it's much lighter.
"We're now using waterjet cutting and other CNC processes, so the deployment mechanisms and everything else are now much simpler and easier to use."
The product is made in the US in a facility just north of Denver, Colorado. You can learn more about the product and pre-order it here. A 2-person version is also available for $1,299. Here are some pics: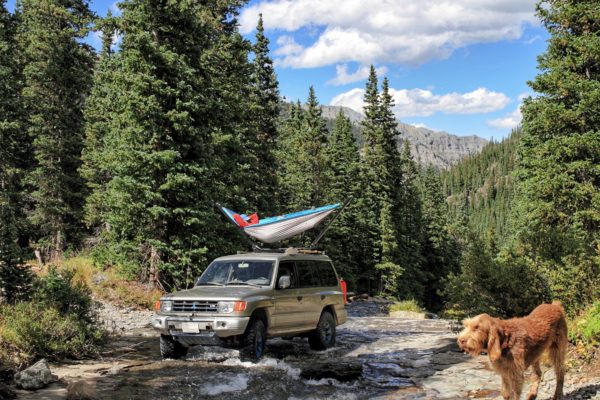 While you can't deny after looking at those pictures that it's a cool product and looks like a ton of fun, my first reaction to this is that it's now too expensive for most people. At $349, its certainly wasn't throwaway money (for me, anyway), but it was something I could see myself trying out at some point. At $799, it's getting into roof-top tent territory. This Smittybilt roof-top tent is $850, and it comes with bedding and an actual tent that provides complete weather protection. With the TrailNest, you still need to provide the hammock, underquilt, tarp, etc. For the price of the TrailNest, I'd want them to at least throw in a cheap hammock just so that you can use the thing as soon as you get it. (For example, here's one on Amazon for $9.99 that includes carabiners, tree straps, etc. Why not just include something like that with your $800 purchase? I understand that TrailNest may want to be making and selling their own hammocks in the future, or that they want one made in the US instead of a $10 Chinese one, but still, I think a hammock should be included.)
All of that said, some people simply prefer sleeping in hammocks to sleeping in a bed. If that's you, I can absolutely see the $799 price tag making sense. Even $799 is cheaper than a week's worth of hotel stays is most places. But I'm just a little bit sad that it's now priced high enough that I will never get it.
An Alternative
If that $350 price tag for a hammock-related accessory is still calling to you, check out the Hammock Mount by McClean Metalworks. I know I've written about it before here on the blog, but it's just such a smart design that I wanted to mention it again as long as I'm talking about funky car hammock accessories.  While it doesn't have the roof-top wow factor of the TrailNest, it's half the price and is arguably more practical in that it's easier to get in and out of the hammock and is easier to set up, not to mention easier to store when you're not using it.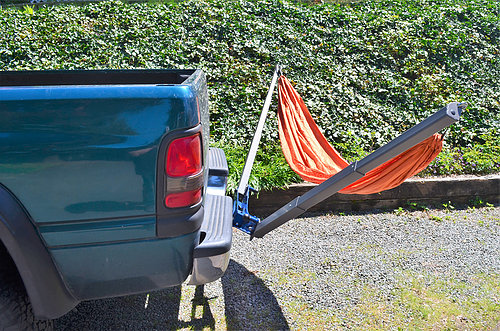 (McClean Metalworks, if you read this, I'd love to review one of these for real if you're willing to send me one. I'm going on a monthlong road trip in a couple of weeks and can provide you with lots of action shots and would also probably make a video about it. Hint hint. Wink wink. Nudge nudge. Beg beg.)
A Quick Thought on Roof-Top Tents (RTTs)
If I had $2,500 burning a hole in my pocket, I'd get a hard-sided RTT to try out. Probably this one. But I don't have $2,500 burning a hole in my pocket and probably never will. So that leaves me with options like the aforementioned $850 Smittybilt RTT or something like the Tepui Tents Ayer Sky 2 Tent ($1,050). That Tepui RTT is particularly interesting to me because it's being sold at REI. REI has coupons a couple of times a year for 20% off a single item, and it apparently works on Tepui RTTs. So that'd knock the price down to $840. That's still more than I'd want to spend on something like this, but what I would consider doing is buying one for $840 (or around $880 after tax), using it for a summer, and then selling it again for $700 or $800. I'd be willing to take that much of a hit on one just to have had the experience of trying it out. Indeed, my fiancée and I are thinking about using some of our wedding money to get one so we could try it out on our planned honeymoon road trip.
(Yes, another option would just be to buy it from REI and then return it using their rather liberal return policy after I've tried it out, but that's kind of leaves a bad taste in my mouth if I never had the intention of keeping it in the first place. Taking advantage of a company's return policy like that is bad karma.)
Anyway, I just wanted to share that as a viable option for other people who are interested in trying out a RTT but don't want to permanently sink $900 into one and don't have any RTT rental places near them.
---
This blog post contains Amazon affiliate links.