These are links to relevant things that I mention briefly in Chapter 2.
The sleeping area
Companies that make rooftop tents
• Cascadia Tents – Starting at $1,095
• Tepui Tents – Starting at $895
• Treeline Outdoors – Starting at $1,945
• Bigfoot Tents – Starting at around $1,500
• James Baroud Tent – Not sure about pricing, but they look expensive
• Equipt1 Tents – Starting at $1,870
• ARB – Starting at $1,569
SUV tents
• Rightline Gear 110907 SUV Tent – $260 as of writing this
• Explorer 2 SUV Tent – $140 as of writing this. This tent would work only for SUVs with a rear door that opens up (and not out).
• Sportz SUV Tent – $340 as of writing this
• ARB is probably the best-known awning manufacturer, and they make tents of various types that attach to their awnings.
Bed comfort
The self-inflating mattress I use as a bed is the REI Camp Bed 3.5 Self-Inflating Sleeping Pad. It's great.
For pillows I use two smaller travel pillows. I bought one from Camping World and another from Walmart. I like the Walmart one better. For pillow cases, I bought this one from Amazon to cover the Camping World pillow and a Walmart one to cover the Walmart pillow. Again, I like the Walmart one better.
Privacy
Tip: If you want to get your SUV's windows tinted, check Groupon for deals.
DIY Gear Supply and Ripstop by the Roll are both good companies to buy black ripstop nylon fabric from if you want to make curtains like mine. They also sell shock cord, Velcro, etc.
Staying cool in hot weather
This is the little D-cell battery-powered fan that I use. I have a few of them. I also have my eye on this much bigger one and this USB-rechargeable one.
If you want to put a fan in the roof of your SUV, Fan-tastic Fans are the ones to get: Fan-Tastic Fan Vent New 1250 ($160) or Fan-Tastic 807350 Vent ($242)
The above-mentioned DIY Gear Supply and Ripstop by the Roll are also good places to buy no-see-um netting to make window screens from. These are the magnets I bought at Home Depot to hold the screens up: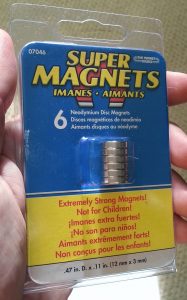 And here's a link to them on the Home Depot website.
This is the windshield sun shade I use (size "jumbo"), and it's awesome because it packs up so small when not in use. Here's Reflectix on Amazon if you want to get some to insulation/privacy to the other windows.
These are the window deflector things I have.
The Skeeter Beater is a set of magnetic bug screens that you can buy to stick on the outside of your vehicle.
Staying warm in cold weather
The Mr. Heater Little Buddy portable propane heater would work in an SUV if you monitor it closely.
Other sleep tips
This is the sleep mask I use to sleep better, and these are the earplugs.
If you often find yourself camping in hilly or mountainous terrain, it may be worth investing in leveling blocks. These ones are inexpensive and look like they'd be good for SUVs, but all of these kinds of things look like they take up a lot of space.