For a long time I used a headlamp for nighttime visibility inside my SUV. It worked well enough, and I recommend every SUV RVer or vandweller have one. The problem with headlamps is that they focus an intense amount of light in one just one direction, and I found that when I was inside of my vehicle, I wanted a softer light that brightened up the entire space. I realized that what I really wanted was a lantern.
So off I went to Amazon to see what was out there. My research led me to the d.light S20 LED Solar Rechargeable Area Lantern. It's a medium-sized lantern. It's bigger than the tiny little LED ones but not nearly as big as the propane-powered ones or the ones that run on a cluster of D batteries. At about 8 inches tall and 3.5 inches in diameter, it's about the size of a medium soft drink from a fast food place, and it easily fits into my SUV's cupholders. It ostensibly has two brightness modes, but to be honest, they both seem about the same to me.
The really great thing about this lantern is that it's solar-powered AND rechargeable. It has a 2-inch by 2-inch square of solar cells on top and also comes with a little USB charging cable, so it can be charged via USB from a computer, an inverter, or one of those external USB battery pack things. A little red LED light on the back lights up when it's charging via either source.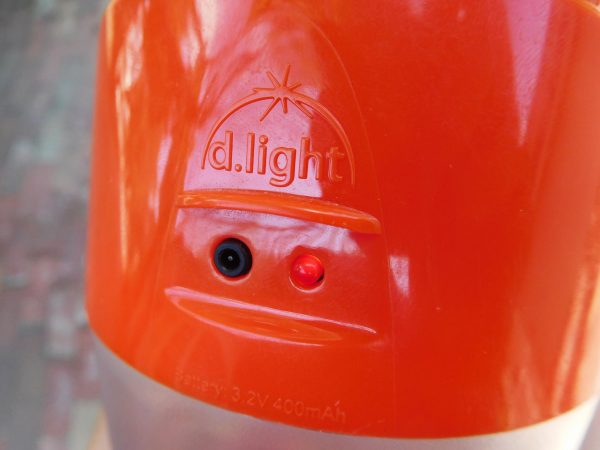 I love this thing. When I'm out SUV RVing, I'll leave it on the dashboard during the day so it can charge in the sun, and then at night I hang it up from a 3M Command hook that I stuck to the ceiling light in the back of the SUV. Hanging from this position, the lantern gives plenty of light for the whole of the SUV's interior. I can easily read, write, eat, etc. The lantern charges so well just from sticking it on the dashboard that I almost never charge it via USB. To make sure I don't lose the cable, I have it tied semi-permanently to the lantern's adjustable hanging wire thing.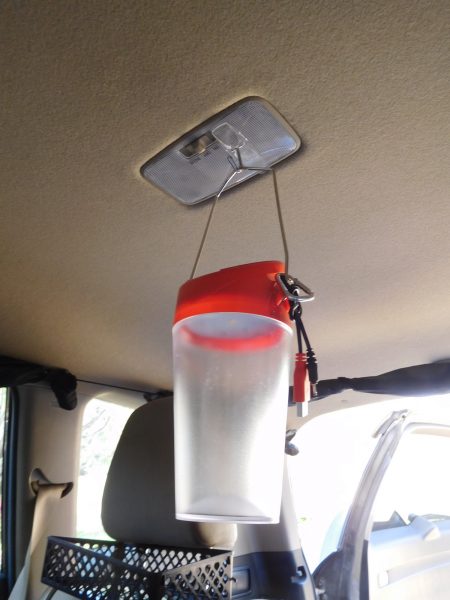 It is stated to run for 8 hours in low power mode and 4 hours in high power mode. I've never really run it down, so I can't attest to whether these are accurate, but suffice it to say that it will run for a long time. If you have a USB battery pack handy (which you should; they're super useful), you'll have plenty of light for whatever your needs are.
The lantern retails for ~$19 on Amazon, and I highly recommend it. I like it so much that I've found myself keeping it on the nightstand next to my bed at home and using it as a reading light!
(The links to Amazon are affiliate links, so I'll get a small commission if you buy the lantern.)