Last week I published reader Mike's fantastic set of tips for doing laundry while on the road. Soon after that, I got another great email from Mike that started off with this:
"I realized I did not provide a how-to on laundering items by hand. (Forgot that people might not have a clue as to how to do it.)"
He then proceeded to outline his method of washing clothes by hand. It's much more systematized—and probably much more effective—than my "throw everything into a bucket of water and knead it for a bit" method. Without further ado, here are Mike's tips.
What You'll Need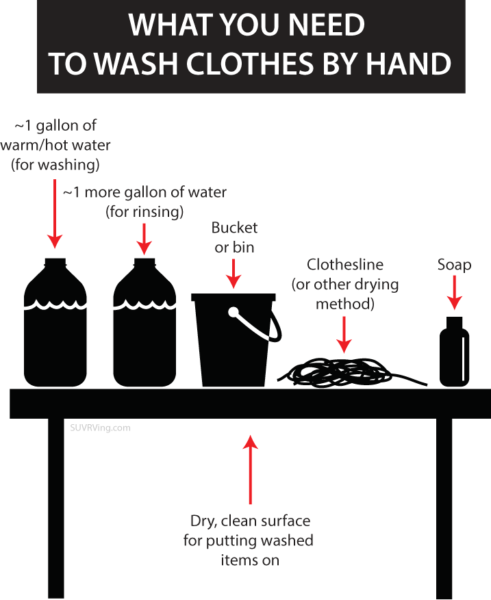 A gallon or so of warm to hot water (~98 degrees F, skin temperature) for washing the clothes. The exact amount of water you'll need will depend on how much clothing you have and how dirty the clothing is.
An additional gallon or so of water for rinsing the clothes. (Warm water is nice but is not necessary.) Again, the exact amount will depend on volume of dirty clothes and how dirty the clothes are.
One bucket or tub. A collapsible tub like this is great for traveling. (Use the bathroom sink if you're staying in a hotel room.)
Clothesline or suitable drying surfaces. A braided clothesline like this is effective and takes up little space.
Soap (For hand laundry it is best to use a true soap, not a modern detergent. Soap is a little easier on your hands and will leave fabric feeling softer than detergent as residue if any will lubricate fabric fibers rather than stiffen them. Also a gentle soap is easier on your skin if some residue remains in the fabric.)
Dry, clean surface that you can set your washed items on. [Tristan's Note: This could be as simple as a clean trash bag on the ground.]
Preparation
Assuming you have only one bucket or tub, you will need to use it for both washing and for rinsing, so you will need to stage your washed items before rinsing. Sort items you wish to launder from cleanest to dirtiest and start washing the cleanest item first. Be prepared to set the washed items aside on a clean surface while still soapy.
Washing Instructions
In a bucket or tub, use about 1 gallon of warm to hot water, adding enough soap to ensure the water feels slippery. Suds are good, but you do not need many. Swish the water around to mix.
One item at a time, work fabric into the soapy mixture. Move it around, squeeze it and so on. Do you best to get the item clean. Usually about 20 seconds to one minute per item is all you need. Gently squeeze out the excess water and set the item aside on a clean dry surface and start washing your next item. If you see the wash water becoming too dirty, you'll need to either dump it and add new wash water or add some fresh rinse water.
When all your laundry has been washed, it is time to begin rinsing. Dump your wash water and fill your bucket or tub with clean water. Warm water is nice but is not necessary.
Rinsing and Drying
Start rinsing the cleanest items first, the same order as when you were washing the items. This keeps the wash and rinse water the cleanest for the longest amount of time. Again, if you see the water becoming too dirty, add some clean water to the mix or dump it all out and fill the bucket up again with clean water.
Always rinse well. Rinse one item at at time. Squeeze out, but do not wring out, the water from the fabric. After the initial squeeze out, you can wrap the fabric inside a dry bath towel and squeeze or pat dry to absorb more moisture which will help speed drying.
Ease item back into shape and let dry flat, away from direct heat or bright light, or hang the item on your clothesline to dry.
***
Read the rest of Mike's laundry tips here.