I've recently gotten a couple of great emails from a reader named Mike about doing laundry while traveling on the road. My preference is to find a laundromat, but as Mike points out, that is not always possible, and he has tips that I think a lot of people will find useful. With his permission, I'm publishing his emails here (edited and rearranged slightly) for everyone to enjoy and get value from. I've also added a few of my own comments. Thanks for the great tips, Mike!
Doing and Drying Laundry
A few years ago I had to travel by car, 33 states in 20 days, staying in motels and hotels. In my case, I was traveling so much, there literally was no time to find and sit in a laundromat which was another reason I chose handwashing of garments in the evening once I was in my hotel room.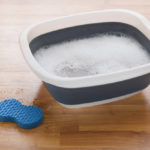 I had 2 sets of clothes and washed items every day or so using a 2 gallon bucket that I carried my laundry equipment in. I think a collapsible tub like this might have been better as a space saver. [Tristan's Note: A bin like this could, of course, also be used for washing dishes or even muddy shoes.]
Anyway, the best thing ever to help you do hand laundry effectively is a clothesline like this. Light, adaptable, strong, and you do not need clothespins! Can be attached probably a thousand different ways. [Tristan's Note: Yes, these are great! I've used them in the past for my international travels.]
Rinsing is very important when washing any item by hand. Water management would be much harder SUV RVing than in a hotel room for instance, but if only a little bit of soap were used, rinsing would be less rigorous of course.
Natural Soaps
Natural areas often suggest/require something like the following with regard to washing things while on the land. From the National Park Service:
"All soap, including biodegradable soap, should be used and disposed of away from water sources. Carry water 100 feet from the source before washing. This includes washing clothes, dishes, and yourself."
And following Leave No Trace principles:
"To wash yourself or your dishes, carry water 200 feet away from streams or lakes and use small amounts of biodegradable soap. Scatter strained dishwater."
I've had a small one-person business since 2003 where I import laundry soap from England. It is plain pure soap with no additives and no perfumes and is 100% biodegradable. While Soap Flakes or Liquid Soap Flakes (the products my company imports) can be used for anything including dishes, these soaps are best used as simply soap. As in "wash in soap and water". Nothing magical, not a miracle cleaner, but very good soap that certainly works well.
I note that both the products above will not harm durable water repellent (DWR) fabrics as the soap is true soap and not detergent.
[Tristan's Note: I've used Dr. Bronner's for washing clothes and had good results. I like the citrus orange kind.]
Clothing Recommendations
Sounds strange, but silk is super strong and cleans really well with soap and water and dries quickly. Silk undergarments work well when repeated washings are necessary over a period of weeks or a month or so.
All sorts of other special fabrics are great for pants, shirts, socks and so on so as to wash easily and dry quickly while more or less maintaining a good freshly pressed look even when dried on a clothesline.
Here are a few travel clothing sources I have used and recommend:
Years ago I purchased one or two pieces of clothing from all three sources for easy washing and quick drying on the road while maintaining a neat look without ironing and so on.
Easy DIY Travel Shower
A useful cleaning/washing up tip is to take an ice pick—you could also use a deck screw in a pinch—and make 3 to 5 tiny holes in the cap of a throwaway water bottle; you know, those bottles with drinking water in them that you buy by the case. An ice pick makes a faster, easier, and nicer hole than slowly twisting a deck screw, but both will work. Careful use of a knife blade point will work as well. I've tried knife blade "slots" poked into a bottle cap, and they will work too, but I find ice pick holes to be the nicest and best for me.
Leave the cap on the bottle and gently press the ice pick through to make some holes in the top of cap.
You can do the same with 1L or 2L (used) plastic soft drink bottles filled with water, and use them for washing hands, even showering. It is so simple.
You can save the various caps you made for quicker future use and use a bottle's original bottle cap to reseal any unused water remaining in the bottle.
By varying the number, placement and size of the holes you make in the cap, you can control the flow of the water leaving the bottle. Well, that and the amount of pressure you use when squeezing the bottle.
Sort of tip and squeeze and wash your hands or whatever, and with a 2L bottle or two or more 2L bottles, even take a decent shower.
In the past I have purchased those special caps (like this) that fit on plastic Coke bottles, with extra air holes in the cap, however the water comes out awfully fast, too fast for me.  If the amount of water used is not an issue, using these special caps feels like you are taking regular shower at home. Great flow.
But just poking holes in a regular plastic bottle cap that comes standard on the bottle, works plenty well for me. Doesn't use nearly as much water either.
I haven't seen this bottle cap idea anywhere. Figured it out myself. As simple as it is though, I'm sure others have probably done something like this also. I just think it is really cool. Like you don't even need pumps or battery powered showers or special anything. Plastic bottles in various sizes are everywhere. Cheap or free and reusable. True, it is not as fancy as those special sink or shower gadgets, but you do not use much water this way either. Plus you can make the kind of water flow the way you want.
[Tristan's Note: I have done something similar, and it does work well. I used an awl when I did it, but I imagine a very small drill bit would also work. The Mud Dog Travel Shower, SpaTap, and Bottle Blasters are other options if you don't want to make your own. I haven't tried any of them, but the Bottle Blasters one looks particularly appealing because it doesn't have a million holes in it, has two different sides to fit different sizes of bottles, and is cheap ($8.99 for a 3-pack).]
A Simple and Easy DIY Faucet
If you need a small steady flow of water to wash both hands at once, sort of like using a sink at home, you can rest a bottle of bottled water on a rag, stick, rock, table edge or whatever, pointing the bottle's opening downhill a bit and then slightly loosening the regular cap (no holes in it) let the water dribble or trickle out.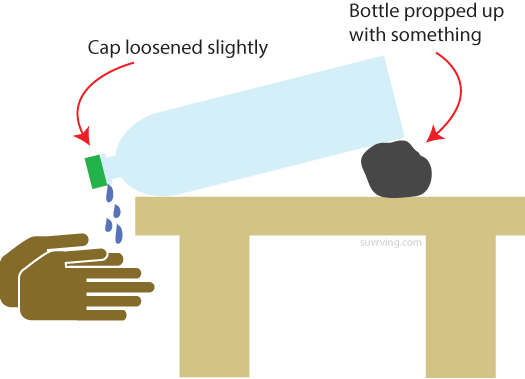 Wash your hands under the dribbling water as if you were washing your hands in a sink. Turn the cap as if you are opening or closing a faucet tap.
Even a small but constant dribbling amount of water can wash your hands quite well and this method uses almost no water in the process.
***
See also Mike's other tips about how to actually wash and rinse clothes by hand.
[Note: This blog post contains Amazon affiliate links.]