This is a collection of SUV camping- and vandwelling-related gear and articles that I've come across recently that I wanted to share.
Hammock Hanging Options
I've really gotten into hammocking lately. If you've never taken a hammock on an SUV RVing adventure, get one! (Here's one on Amazon that's inexpensive, gets good reviews, and comes with the tree straps.) It's a cheap and oh-so-relaxing camp activity. While exploring deeper into the world of hammocking, I've come across a couple of items that are of specific interest to SUV campers:
The TrailNest Roof-Top Hammock Stand ($349) – You've seen roof-top tents, right? Well how would you like to have a roof-top hammock? That's what the TrailNest stand allows.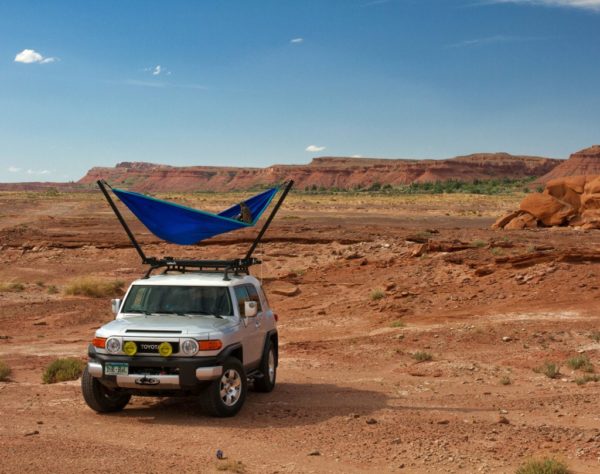 I know it's a bit silly, but I really, really want this thing. As shown in the image above, you can hammock even when there are no trees or other objects to attach your hammock to. You can sleep in the hammock overnight (thus freeing up the inside of your vehicle for storage) or just whip it out whenever you're feeling like you've earned a bit of a rest.
The Hitchhiker hitch-mounted hammock stand ($290) – Perhaps slightly more practical than the roof-top hammock stand is this hitch-mounted hammock stand from Blue Ridge Overland Gear.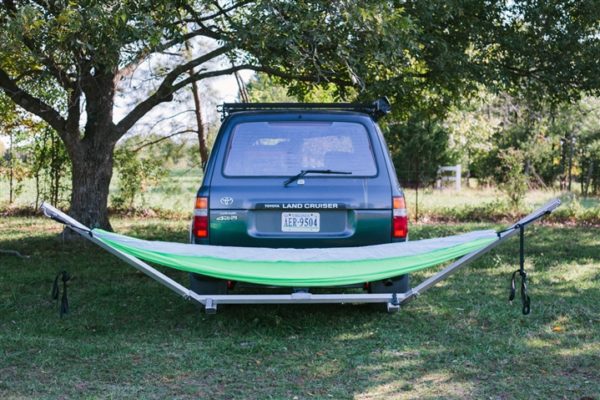 It's made out of lightweight aluminum, attaches to a vehicle's hitch receiver, and folds down to a relatively compact bundle when not being used. The only issue I have with this is that the setup angles down slightly. This is done so that the hammock stand arms extend out and away from the vehicle. But it's not uncommon for me to bump the hitch receiver on my RAV4 when I go into and out of dips, dry washes, or even steep driveways—I just don't have enough clearance back there. I'd have to strap the hammock stand to the top of my car when not using it and then move it down to the hitch when I get to camp. That's not terrible, but it's not quite as convenient as the roof-top hammock stand. On the other hand, you also don't need to (get to?) climb up on top of your vehicle to access this hitch-mounted hammock stand.
2-in-1 Hitch Rack and Roof-Top Cargo Carrier
Speaking of hitch receivers and strapping things to the top of my SUV, I saw this bad boy at Walmart the other day: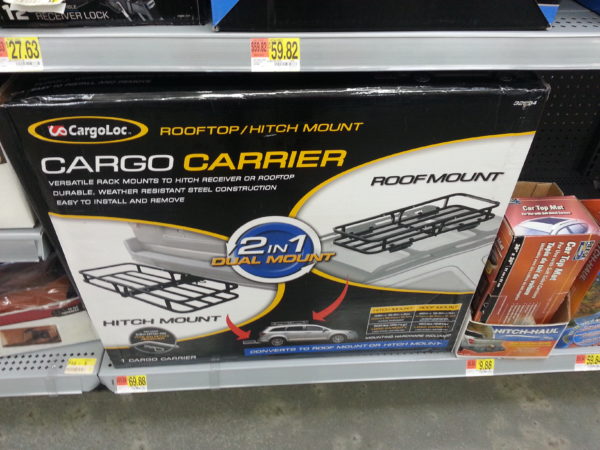 It's a hitch-mounted cargo rack/basket that also doubles as a roof-mounted cargo rack/basket. Neat, huh? While it retails for $69.88 at Walmart, I found it for on sale for $45 on the Pep Boys website. (And in case you were wondering, it's on Amazon for nearly $100.) The thing I like about it as a roof basket is that it's narrow; it doesn't take up the full width of the top of the vehicle. That means that you could also mount a bike, kayak, or skinny cargo box up there. I've been eyeing roof baskets lately because it would be a great way to store firewood, among other things, and this particular rack is currently at the top of my list. There aren't a ton of reviews of it out there, however, so who knows if it generates wind noise, if it will rust with exposure to the elements, or if it will last.
The Best SUV Video Ever?
A guy wants to sell his 1996 Suzuki Vitara. He made a video of it, and it's awesome. (Click here if you can't see the video below.)
The Ultimate Awning… Thing
Check out the sheltaPod ($345 or £265). It bills itself as "The coolest, most versatile campervan awning EVER!" I don't think I can argue with that.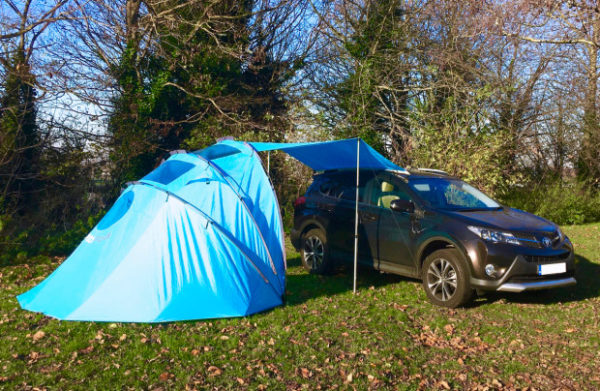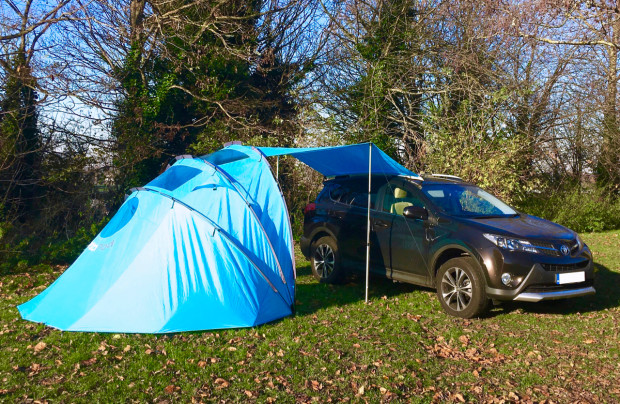 Pretty neat, huh? You can read a lot more about it on the sheltaPod's website and see about a trillion videos and images of it on the IndieGoGo page.
Everything Else
Here are a few more items of interest:
***
Do any of these things appeal to you? Got something SUV-related that you want to share? Leave a comment or shoot me an email. Thanks for reading!
Note: This blog post contains Amazon affiliate links.