I spent a couple of days this week up in the Uinta Mountains of northeastern Utah on a semi-failed SUV RVing adventure (more on that in an upcoming blog post). It's one of my favorite places in the country, and I had a great time rock climbing and hiking. After pulling into a trailhead parking lot and getting out of my car, I saw that the RAV4 next to mine had a spare tire bike rack on it. Very cool!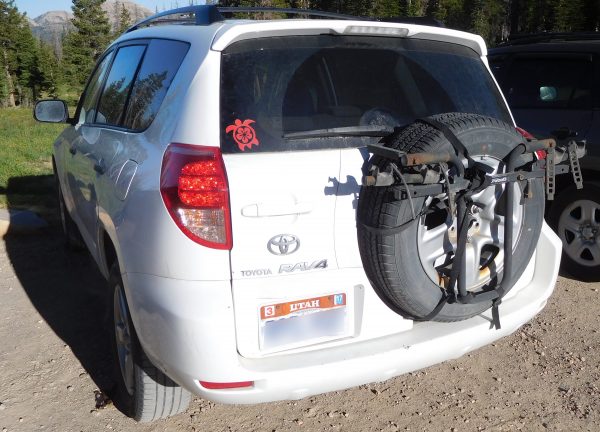 While I mention attaching things to the rear of the vehicle in chapter 3 of SUV RVing, and while I knew that there were gas can holders that could be attached to a spare tire mounted to the rear of a vehicle, I didn't know that there were bike racks that attached to the spare tire. But there are actually several of them on Amazon. These three look like the best:
• Surco BT300 Spare Tire Rack – $145
• Hollywood Racks SR1 Spare Tire Rack 2-Bike Spare Tire Mount Rack – $135
• Yakima Sparetime Bike Rack – $199
The two above attach wholly to the spare tire, but you can also get a cheaper version that attaches partially to the rear bumper. The only downside with this model is that it may make opening the rear door difficult, although I saw one reviewer say that he was able to attach it to the bottom of the rear gate instead of the rear bumper.
I know that this won't apply to most SUVs, as most of them don't have a spare tire mounted to the back. But for those of us who do, this seems like a great way to store a bike without having to resort to a trailer hitch that might make opening the rear door difficult.