A very common question from people who want to camp or live in their SUV is how/where they are supposed to go to the bathroom. There are a number of different ways to address this problem, and ny personal toilet solution has 3 components:
I use public toilets whenever possible. This includes toilets at Walmarts, gas stations, grocery stores, fast food restaurants, libraries, visitor centers, trailheads, etc.
I have a pee bottle for when I need to pee inside of my vehicle and don't want to leave. This can be due to privacy concerns (e.g., there are other people camped nearby) or weather concerns (e.g., it's cold or rainy outside). I use a green Nalgene bottle.
I have a small, portable camp toilet that I made. I use it in conjunction with a privacy tent when I need to poop and there are no public restrooms around.
Excuse me while I get a bit graphic here, but I've never pooped while inside my SUV. I've never really needed to, and the idea of pooping and creating unpleasant odors in such a small space has never appealed to me. That said, different people have different priorities. For some, the best solution is to rig up a toilet inside of their vehicle so they can use it discretely without having to leave the vehicle. A few months back, SUV RVing reader/viewer Rainwood sent me a couple of photos of the toilet she built into the sleeping platform of her Subaru Forester: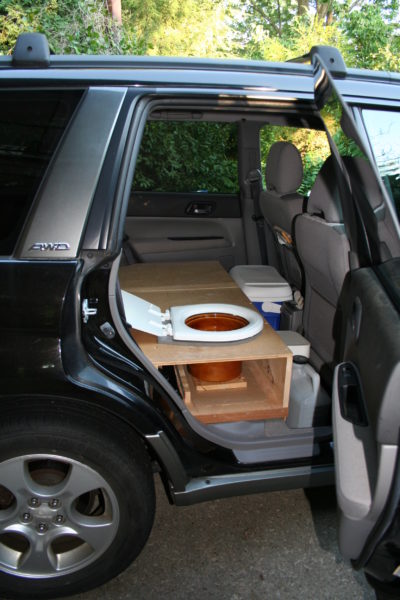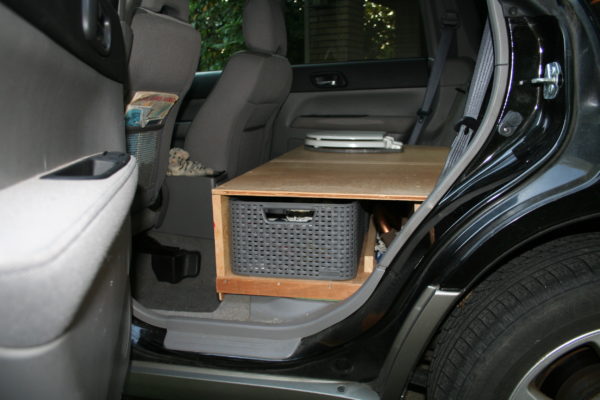 First, Rainwood removed the rear seats. And then here's what she had to say about the toilet and how she made it:
"Since I want to be able to sit on my toilet, I found an old crock from a crock pot at a second-hand store. It is just the right height and fit where the back seat was. I found an RV toilet seat on line and built it in. Like I said, I'll use plastic bags (they fit well) and kitty litter. I got the back windows tinted and am going to put curtains in for privacy."
If being able to go to the bathroom while inside your SUV is important to you, Rainwood's design looks like a great one to emulate.
She also had this to say about removing the seats:
"When I took out the back seats I had to add some foam to fill the space below the first wooden frame. Before placing the foam, there was a lot of noise from gasoline splashing around as I drove."
And here are some pics of the seats removed and foam she added: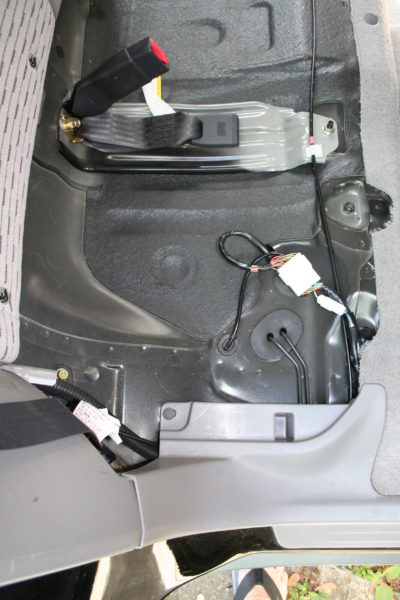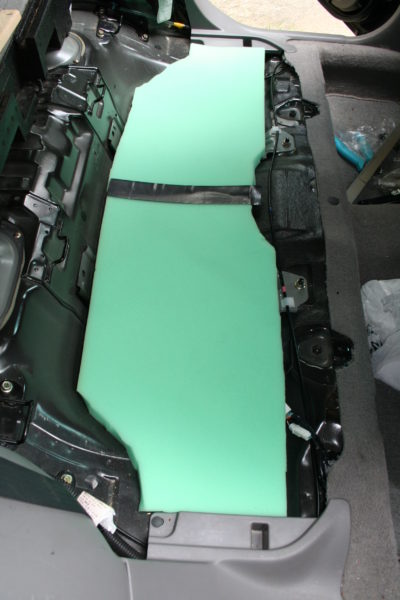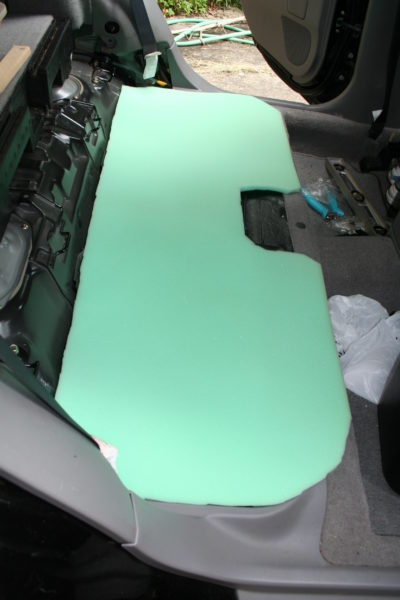 Thanks for sharing, Rainwood!
Another option for adding a toilet to your SUV is to simply put a bucket toilet on the floor behind the front seats. I show that in this picture here (this is the toilet seat I bought):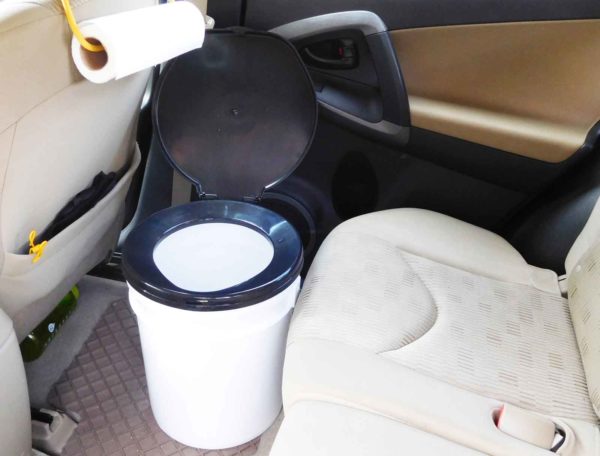 Pictured is a 5-gallon bucket, but you could certainly get a smaller one if you wanted more headroom.
If you'd like to share some pics of your SUV camping setup with the SUV RVing community, get in touch using the form here.
[Note: This article contains Amazon affiliate links for products that I use and have paid for myself.]