I've used freecampsites.net a bunch in my travels. It's nice and simple: you search for a city or town, and it shows you where there are free campsites nearby. Not too long ago (about 4 months ago), the site added a trip planner tool, and it looks great. I only learned about the tool last week, so I figured I'd share it here in case others haven't found out about it yet.
After going to the site, click "Trip Planner" button in the top left corner: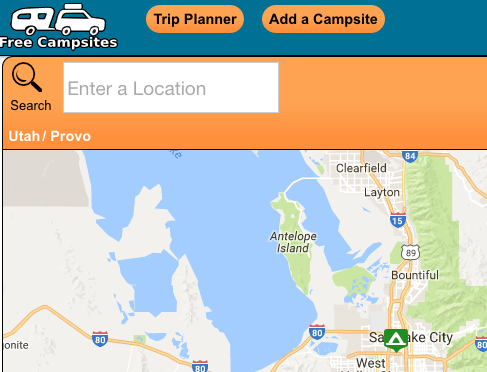 Then a little box pops up, and you enter in your starting and ending locations. So for example, I live in Ogden, Utah. My brother lives in Seattle, Washington. When I enter those two points into the trip planner, I'm shown a map of the route with a ton of campsites marked along the way: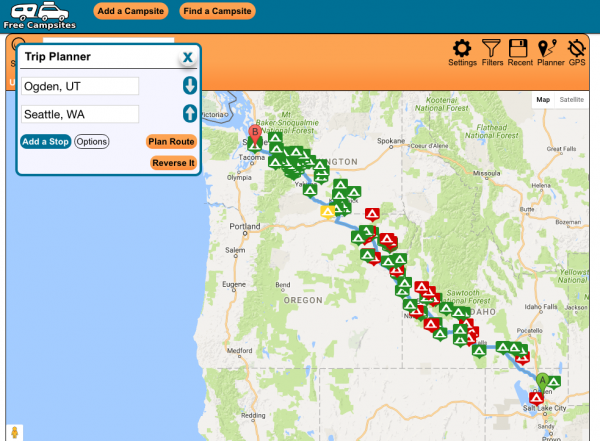 Pretty cool! By default, you're shown campsites within 50 miles of your route, but you can adjust this by clicking the Options button in the trip planner box, where you can also choose to avoid highways, tolls, etc.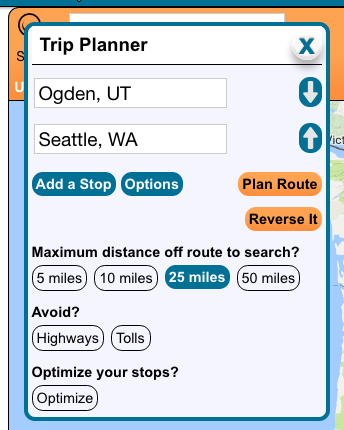 As you can in Google Maps (which this trip planner tool is based on), you can click and drag on the route to change it and add multiple destinations. According to the blog post announcing the feature, "You may save or share routes simply by bookmarking them or copying the URL," and "Routes are cached for offline use and optimization of your data plans. Find them under the 'Recent' menu."