What is the best shower option for SUV RVers and car campers? A video viewer asked me that question in an email a couple of weeks ago, and I've turned my reply into this blog post.
It's something I don't have a very good answer for, and that's for a few reasons. First, I haven't tried every camp shower out there, so I can't really give a definitive answer in that regard. And second, the best one for you really depends on what you value most in your shower. And third, I myself haven't made up my mind as to which I prefer. That said, here are some brief thoughts on different kinds of camp showers.
Do you want simplicity? Then a spray bottle and bag of wet wipes is a great solution. This is what I used on most of my early trips. It won't get you as clean as a traditional shower, but it's more compact and less of a hassle, in my opinion, than the other options below. It doesn't get much simpler than this.
Do you want more of a traditional shower experience but don't want it to take up too much space when it's not being used? A solar camp shower (the kind that is essentially a bag that you fill with water and then leave out in the sun; this is the one I have) may be right for you. I used one of these showers on a couple of my early trips but never really liked it for two reasons:
1. I was never at a campsite long enough or during the hotter/sunnier parts of the day, so the water was never as hot as I would like.
2. I often camp in the desert or some other area that doesn't have trees nearby. With no trees to hang the shower from, I had to resort to plopping the shower down on the roof of my car, but my car isn't very tall. This meant that I'd have to hunch over to get the water flowing. Not ideal.
I'm currently giving the solar camp shower a second chance. I've gone a long way toward solving the first problem by doing this. And I've also solved the second problem, which will be covered in a video in the next week or two. The downside of this kind of shower is that, depending on environmental circumstances (cloud cover, temperature, elevation, etc.), the water still may not be as hot as you'd like.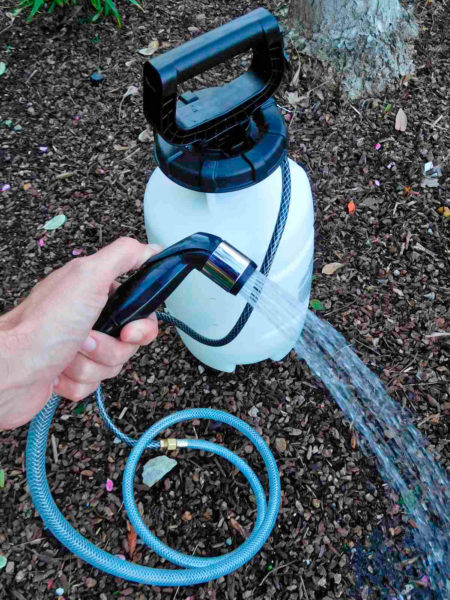 A sprayer-style shower (like this) is great if you have a bit more room and don't want to have to mess with finding a place to hang up the camping-style shower. I made a shower similar to the one in that video and liked it whenever I was using it, but found that it took up more space than I wanted when I wasn't using it. Because my SUV (a RAV4) is so small and space is at a premium, I gave it up in favor of the more compact solar camp shower.
If you want ultimate comfort (i.e., a pressurized, heated shower) and are willing to give up some space for it, the Zodi heated camp showers are supposed to be great. Ted from this article has the Extreme SC and speaks highly of it.
(Note: This article contains Amazon affiliate links.)